7 Tips On How To School Everyone On The Track In Virginia Beach
Many people think that since they have a drivers license or play racing video games, they'll naturally be excellent at go kart racing. Anyone who has actually been to an electric go karts track can tell you, it's harder than it looks. But for first-timers attending a birthday party or corporate event, you may want to skip ahead on the learning curve to get an advantage on your friends and colleagues. Nobody wants to be last place! Read some of our suggestions on how to dominate on the racetrack!
Hands on the wheel 
Now isn't the time to get creative with how you hold the steering wheel. 10 and 2 will work just fine. If you lose control on a turn, you lose the race. Now isn't the time for any hand gestures to the competition; you'll have plenty of time for that later if you win.
Sit still
Don't leave forwards or move around in your seat. You'll be buckled in when you race, but don't throw your weight around much or you will work against yourself! Make sure your buckle is tight before the race, if you are sliding back and forth in your seat, your shirt will give you some rug burn!
Learn the brakes quickly
Every cart will be a little bit different, and you'll have several laps to post a top time or race to the front, so learn how sensitive your brakes are, and you'll be able to dominate the corners and whip around the track! Don't slam them too hard, or you'll lose all your speed going through corners, but press too light and you'll just hit the wall!

 Try different lines
Nobody will find the fastest line on their first lap. Try taking different corners at different speeds and angles and you'll quickly figure out what works and what doesn't. Keep an eye on your competition and see if they are doing something better that you aren't, and you'll be able to make instant improvements to your go kart racing.
Stay on target
That means drive straight. Don't turn too soon or lose speed taking long arcs. A straight line will get you there fastest, so keep it that way whenever possible. Our track has a long straight-away, so make sure you get your top speed going there before hitting the corners.
PRACTICE!
Not all of these tips will click for you immediately. It will take more than one race to really make you a great racer, so don't get discouraged by a bad lap or race. Even if you win, there's always room for improvement, so don't get cocky and start thinking you're the best on the track. Nobody likes to lose, and your friends will all be gunning for you now!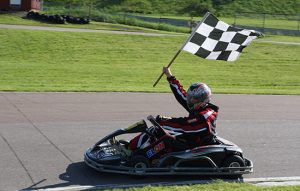 By learning some of these principles, you can turn yourself from a go kart racing novice to the indoor Mario Andretti. With some practice and a little luck, you'll be unstoppable. Best part of all this practice is that you get to be racing around a track, instead of practicing something boring. Where better to try out some of these tips than at Virginia Beach Motor World? We've got an amazing track that you can race on rain or shine, and have the perfect facility to host birthday parties and corporate team-building events. Come check us out!