Go-Karts and Kids
So your child says, "Hey, I want to try go-karting!" You probably have some questions…is it safe? Is it supervised? Are they going to be flying around a track at 100 miles an hour with 50 other karts? Never fear, we'll let you know how it works and what your kids can expect at VB Motorworld Performance Indoor Raceway. Spoiler alert: they'll love it, and so will you!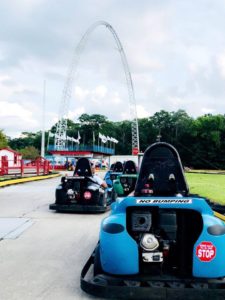 It's Like a Starter Car
Let's face it: however old they are right now, your kids will be driving someday. Go-karting is a great way for them to learn the importance of things like constant observation, good steering, smooth braking, and more – and in a much more controlled environment than, say, the Dallas North Tollway at 6 pm on a Friday. They'll quickly figure out that driving isn't as easy as you make it look, and that reacting to changing traffic conditions is really important!
Safety First!
Kids can start racing at VB Motorworld at age 6 (and must be at least 48 inches tall), in our Junior Race segment where the karts can't go any faster than 25 mph. We use both electric and gasoline karts that are environmentally friendly. We also have an onsite full-time mechanic to make sure the karts are always running smoothly and safely. Oh, and your kids can't just walk in and ask for a kart! If they're under 18, you'll need to sign a waiver and a release of liability form. All racers are required to wear a helmet along with closed-toed shoes, and there is NO bumping allowed. The rules are really important, and they make sure everyone can have a safe and fun time.
Losing, Winning and Learning
Most people don't like to lose, and some people really don't like to lose. But when you try something new, it's almost a guarantee that you won't succeed immediately. Studies have shown the importance of teaching children how to win and lose gracefully at an early age. Dr. Levey Friedman, a sociologist and parenting expert, puts it this way: "Teaching resilience now sets kids up for success because they learn that failure isn't the end of the world. It's just a chance to try again." What a great lesson for all of us. One valuable aspect of competing is figuring out how to do better the next time you do something. Whether you finished second or twenty-second, there's something to learn. Maybe your child is still figuring out how to make smoother turns, or have a better judgment on when to switch from accelerating to laying off. We have some suggestions on how to improve!
Bring the Whole Family
Here at VB Motorworld, we want your entire family to have a safe, exciting time you'll never forget. We can help you celebrate a birthday or other group event, and check out our promotions too. For more information, take a look at our Karting 101 page, or contact us directly with any questions. See you on the track!
family activities, go-kart racing, go-karts, kids and go karts, things to do in virginia beach, virginia beach activities, virginia beach motor world