Where's the Best Go-Karting in Virginia Beach?
Go-karts are like a special treat. It's not every day you get to push the pedal to the metal and leave your friends in the dust. So when you do get the urge to unleash your inner Lightning McQueen, it's good to do a little bit of research to make sure you get the most out of your big day!
What Are My Virginia Beach Options?
There are three main locations for go-karting in Virginia Beach. We'll dive into a comparison of them below.
Here's the three:
Motor World of Virginia Beach – Birdneck Road near Oceanfront
American Indoor Karting – off Lynnhaven Road
Lemans Karting – in Portsmouth
What's Different At Each Location?
Each location has its own distinct features that add to your experience like the number of tracks and other included attractions. When picking your karting destination, it's good to pick the one that will provide you with the best experience, tailor fit to your dream day on the track. We've provided a comparison below to help you get to know what's at each location.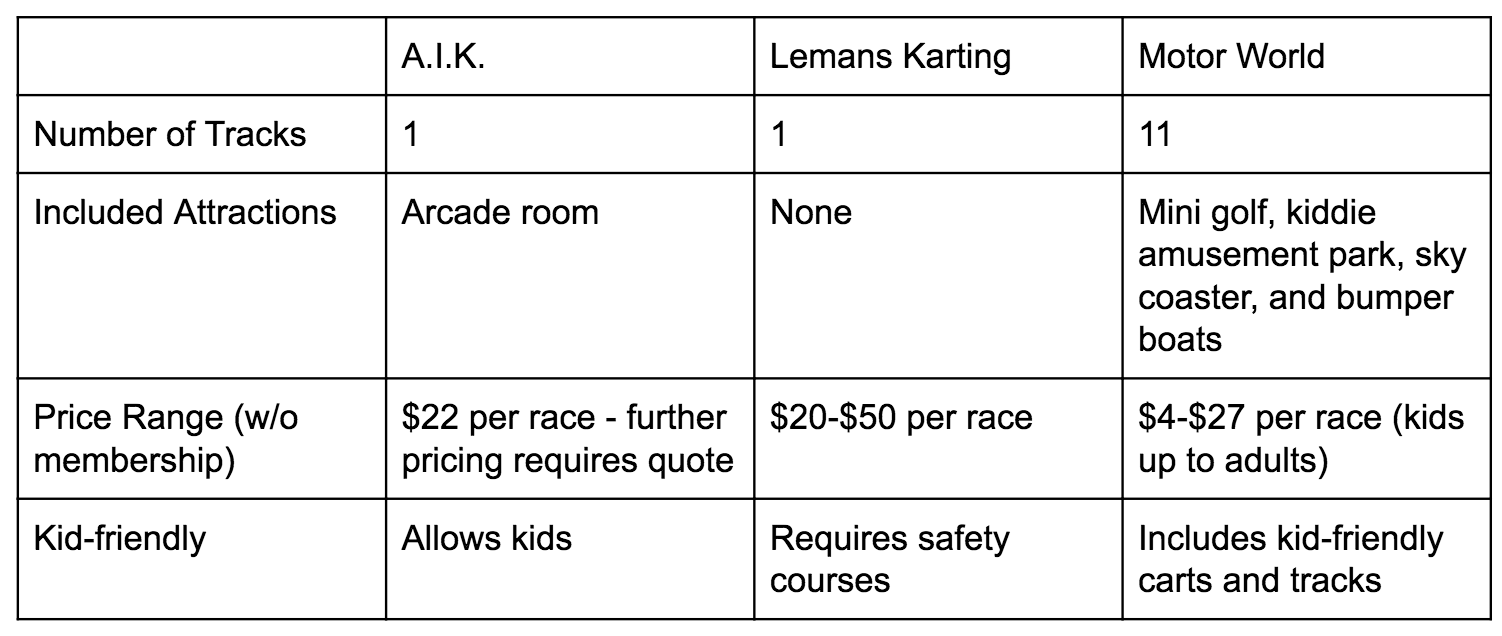 Important Planning Questions
Can I Bring The Kids?
When bringing along kids, especially younger ones, it's important to make sure there is something there for them. For example, a place like Lemans Karting doesn't offer walk-in karting for kids, and if you have a few younger tag-alongs, there's no other options for them. A place like A.I.K. will let the kids race, but you may be looking at a more expensive 2-seater if your little one isn't ready for a full kart.
A place like Motor World gives you options. There are carts and tracks specifically available for little children, and if karting isn't their cup of tea, there's a host of other attractions to keep them entertained while the rest of the group burns some rubber.
How Much Will I Spend On Karting?
Every place does their pricing a little bit different. At A.I.K., your options are a bit limited. With one track and one race option, you get what you get. Lemans Karting gives you a few more options. They still only have one track, but there's different race styles that let you pick the format for your competition. Pricing will depend on your race format and your number of laps. At the highest, you'll spend about $50 per person for up to 30 minutes of racing.
Motor World does their pricing a little bit differently. For all but the full adult speed track, the options work on a ticket system. Your kiddie tracks cost 3-4 tickets while your normal tracks cost 7 tickets. You can buy tickets in bulk and then arrange them as you would like depending on which tracks look like the most fun to you. For the most part, tickets will be just under a dollar a piece, so that should give you a picture of cost.
If you have more questions about the three locations, you can learn more at:
Best of luck, drivers!